The Sub-1GHz RF module is a radio module for sub 1GHz frequencies (315/433MHz and 868/915MHz).
This module is based upon the GPIO-Demo module (or LPC1224-BO) and adds an RF transceiver (CC1101 from Texas Instrument), an oscilator for the internal RTC, and a "Step-up" (step-up voltage regulator) for battery operation.
The module exists in three different versions:
USB, for PC interface and development,
UEXT, for intergration with the DomoTab project,
Standalone for all the other uses (create you own IOT devices or drive any part of your home).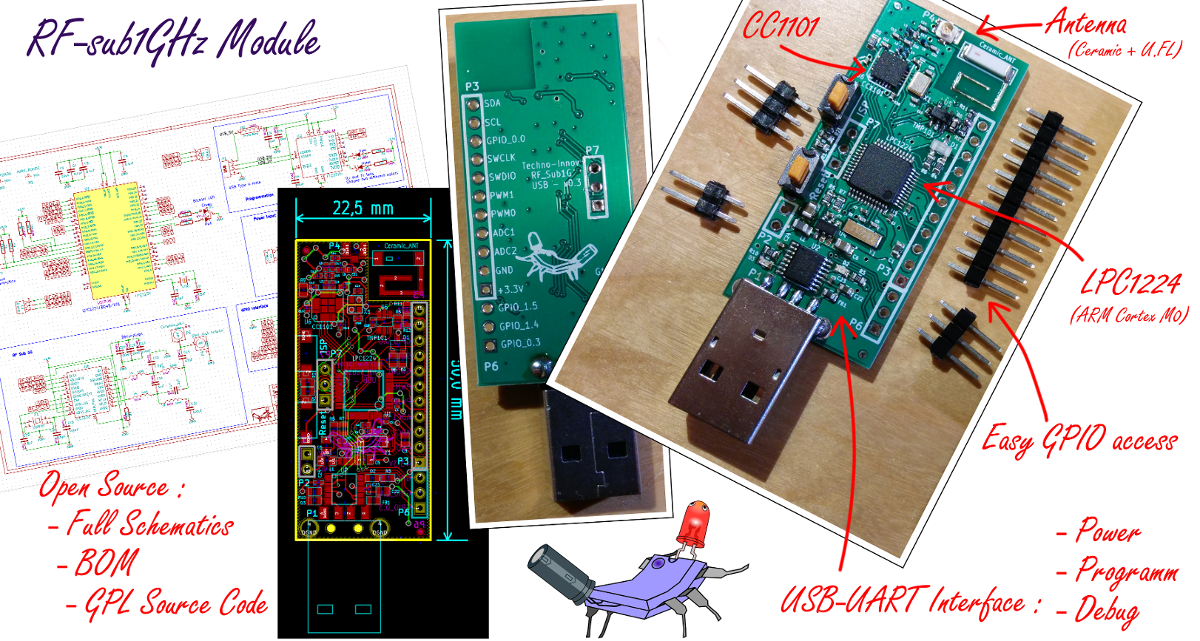 The software is available in the modules project in our git repository.
The code from the sample apps (under apps/rf_sub1G/) makes it easy to start using the module, and will be completed with more complex examples, including specific configurations of the RF transceiver, use of encrypted communication, and power handling, along with the support of existing protocols.
Sources for the electronic part (schematics and routing) are available in this directory (KiCad). Get the three archives (.tar.bz2) (The schematics are also available in the technical documentation of the module).
The technical documentation for the USB version is available.
It includes all technical information about the hardware, the software, the schematics, and the BOM.
UEXT and standalone versions are very close to the USB version, their documentation will be written in a near future.
RF Sub-1GHz module's technical data:
RF Sub-1GHz module reference manual.
Hardware:
Micro-controller : NXP's LPC1224
Core ARM Cortex-M0
Core Frequency: 48MHz
Flash : 32Ko onboard programmable
SRAM : 4Ko
2xUART, SPI, I²C, GPIO, ADC, PWM, …
Interfaces and Features:
Cortex-M0 micro-controller running at 48MHz, with 4Ko of SRAM, 32Ko of fully onboard programmable Flash with no additional equipment.
TMP101 temperature sensor from Texas Instrument.
AP1603 step-up voltage regulator, 0.9V minimal voltage input.
Integrated USB to UART bridge, FTDI FT230X.
Bicolor LED.
Reset and ISP buttons (ISP available for user after boot).
Micro-SD card on the standalone version.
15 GPIO, including 2 ADC inputs, 3 PWM outputs, I2C, SPI and SWD access, using 2.54mm pins for easy prototyping.
Complete autonomy:
Thanks to the integrated USB-to-UART bridge giving access to UART0 for programming (access to serial ISP mode), communication and providing power.
Programming of the UEXT and Standalone versions requires a USB-to-UART adapter (3.3V).
All three versions may be operated using a battery or any power supply between 0.9 and 4.2V providing enough current (required current not yet tested).
Size :
Note : the heigth (15mm) depends on the headers you choose to mount and the selected side for mounting them. The indicated heigth is the worst case, with headers on both sides.
Height for standalone module with no header is 7mm.
Board with USB type A male connector (L x l x H): 65.5mm x 22.5mm x 15mm
Board with UEXT connector (L x l x H) : 50mm x 22.5mm x 15mm
Standalone board (L x l x H) : 40mm x 22.5mm x 15mm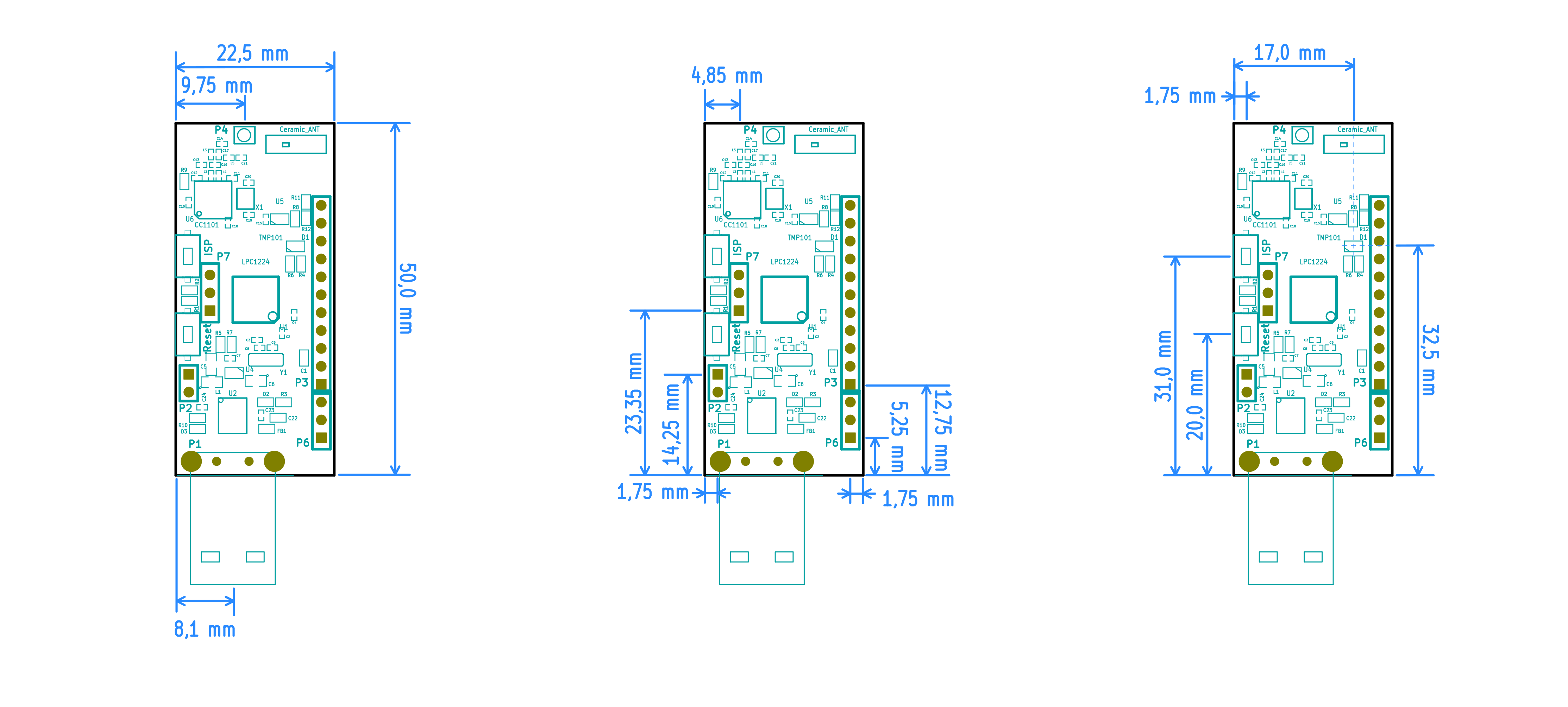 Weight :
Full version with USB type A male connector: 10g
Technical documents :