The LPC1224-BreakOut board (or LPC1224-BO) is a simplified version of the GPIO Demo module, using a different form factor for easier use with rapid prototyping boards.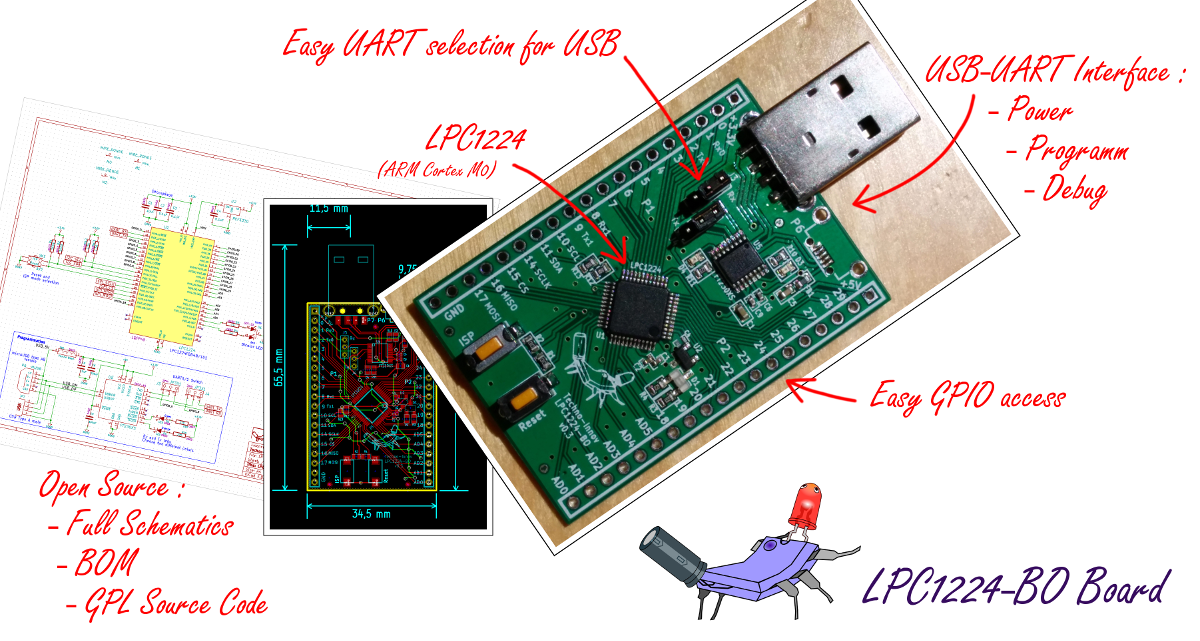 This board is not specificaly designed for the DomoTab project, but rather as an autonomous development platform for NXP's LPC1224 micro-controller.
This development board has all the development specific features from the GPIO Demo module: a FTDI FT230X USB/Serial interface which allows you to power and reprogram the module without cables, cards or power supplies (with choice between micro USB or typa A connector), a two tone LED, two buttons for micro-controller Reset and access to ISP boot mode, and of course access to 34 GPIO (including 6 ADC inputs) on 2.54mm threaded pins. They are spaced conveniently for use on a test plate and have access to 3.3V and 5V power.
Another complete USB key sized development platform!
The main differences (appart from the form factor) are the removal of the UEXT connector and the I²C components (EEPROM and temperature sensor).
Software is already available as well as the schematics, in KiCad format obviously (Get the .tar.bz2 files).
The schematics are also included in the technical reference manual
The reference manual is available !
This manual includes all technical information about the hardware, some help about the software.
LPC1224-BreakOut board's technical data:
LPC1224-BreakOut board reference manual
Hardware:
Micro-controller : NXP's LPC1224
Core ARM Cortex-M0
Core Freq: 48MHz
Flash : 32Ko onboard programmable
SRAM : 4Ko
2xUART, SPI, I²C, GPIO, ADC, PWM, …
Interfaces and Features:
Cortex-M0 micro-controller running at 48MHz, with 4Ko of SRAM, 32Ko of fully onboard programmable Flash with no additional equipment.
Integrated USB to UART bridge, FTDI FT230X.
Bicolor LED.
Reset and ISP buttons (ISP available for user after boot).
Easy access to 34 GPIO, including 6 ADC inputs and access to UART0, UART1, I²C and SPI using 2.54mm pins for easy prototyping, plus 5V, 3.3V and ground from USB on dedicated pins for use without external supply.
Complete autonomy:
Thanks to the integrated USB-to-UART bridge giving access to UART0 for programming (access to serial ISP mode), communication and providing power.
Size :
Board with USB type A male connector (L x l x H): 65.5mm x 35mm x 15mm
Board with micro USB female connector (L x l x H) : 50mm x 35mm x 15mm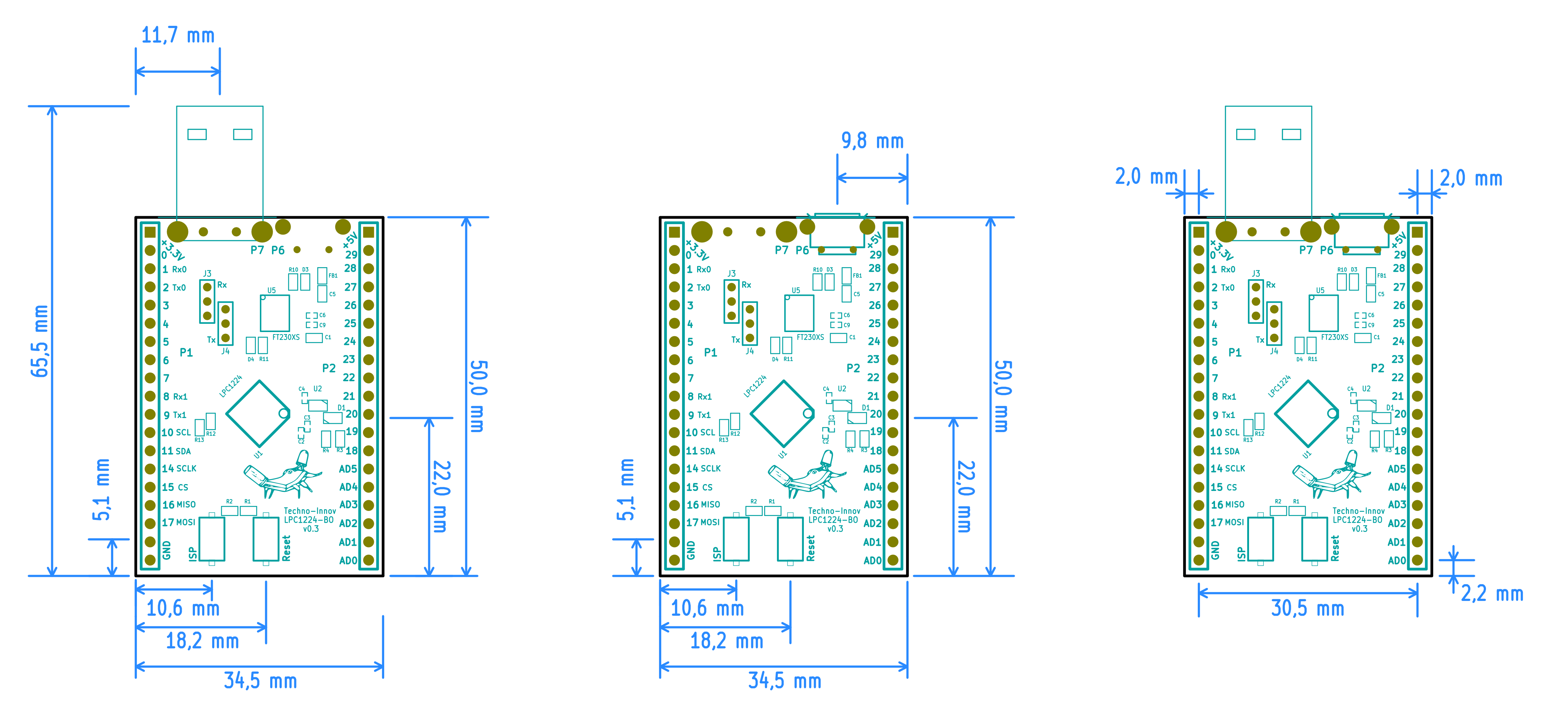 Weight :
Full version with USB type A male connector: 10g
Technical documents :